Newest mods
SOUND FIXES PACK V20.8 1.37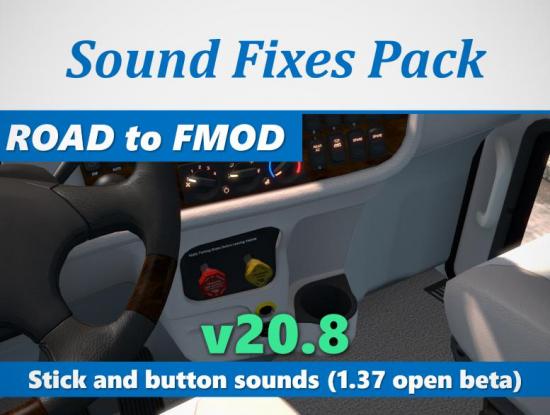 Description:
Changelog v20.8
Converted parking brake sound, hazard warning button sound, and indicator stick sounds for 1.37. [ATS edition]
Known issue: Parking brake off sound is cut off.
Authors:
* SCS Software for base sounds * Drive Safely for sound edits, some sound samples, and for compiling mod * antonvezdehod, Ludmilla and Katixa/Irreo for some tire sounds * Balamut for some key swing and light suspension sounds * AlexeyP for some trailer coupling, gate/barrier and fuel pump sounds, and sounds from Improved Environment Sound * cipinho for some AI traffic sounds * kriechbaum for light switch, blinker off, and high beam stick sounds * Slider_556 for cleaning suspension sound effects * Vasily EVR for some engine and horn sounds from the DAF XF 105, DAF XF 106, and the 1st gen Scania R.
Share this mod with Friends:
DOWNLOAD
(1.1 Mb, Sharemods.com)