Newest mods
SOUND FIXES PACK + HOT PURSUIT SOUNDS V11.6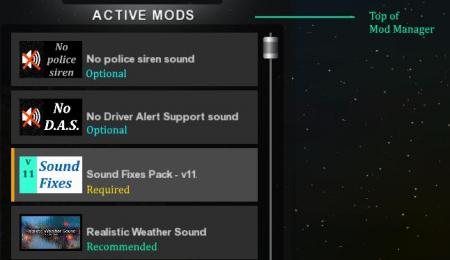 Description:
Version 11.6:
1. ENVIRONMENT / OTHER
Lift axle sound now has a fade out effect once the wheels are fully lifted or lowered.

2. GAMEPLAY / UI
Changed the stock "loud click" button sound to a quieter, pleasant sound
Yawning sounds volume now not too quiet (for when fatigue simulation is enabled)

3. FUEL / GAS STATION
Improved/reworked the fuel pump transition sounds for a better balance
Changed sound of fuel nozzle being put back into place to a modern sounding one

4. SUSPENSION
Suspension sounds made compatible for some mod trucks with conflicting sound definitions.

Feature list:

1. INTERIOR SOUNDS:
* Increased volume for interior stick sounds (e.g. releasing parking brake, blinker stick lever)
* Interior stick/switch sounds for: parking brake, hazard light switch, retarder stick, blinker stick and light switch (taken from real trucks)
* "Late music" replaced with Nokia phone ringtone sound. Note: Volume of this sound depends on Music volume in Audio settings in the game.
* Retarder sound changed to real retarder sound
* Driver Alert Support system sound installed on all trucks.

2. TIRES / TYRES:
* Real interior and exterior tire sounds. Tires will resonate in the cab depending on how fast you're accelerating and what speed you are in, giving a feel for your sense of speed.
* Heavier gravel sounds when driving on dirt roads

3. ENVIRONMENT / OTHER SOUNDS:
* Wind will sound slightly faster from cabin when you drive at a high speed
* Pattering of rain on windshield audible inside the truck during heavy rain
* You can hear the slight sound of vehicles overtaking you or passing by you in the oncoming lane
* Trailer coupling sound made more realistic. You can hear the fifth wheel coupling and the connection of the trailer brakes straight after.
* Lift axle sound has a fade out effect once the wheels are fully lifted or lowered.

4. SUSPENSION:
* More variation and enhanced simulation of suspension sounds. In stock SCS you only get suspension for tires, but in this mod you get suspension sounds for cabin, trailers and tires
* Only hard impacts to the suspension will trigger the key swinging sound.
* Medium impacts will trigger the squeaking of the cabin.
* Light impacts will trigger speed bump suspension sounds or irregular road suspension sounds.
Authors:
* SCS Software for base sounds * Drive Safely for pitch, reverberation and sound edits, some sound samples and compiling mod * antonvezdehod, Ludmilla and Katixa/Irreo for some tire sounds * Balamut for some key swing and light suspension sounds * AlexeyP for some trailer coupling and fuel pump sounds * JAWA, Stas556 for short horn sound for AI traffic trucks * Stewen for improved AI truck sounds * nIGhT-SoN for raindrop definitions
Share this mod with Friends:
DOWNLOAD
(38mb, sharemods.com)