Newest mods
BOREMAN LED MARKER LIGHTS V1.4 [11.07.2018]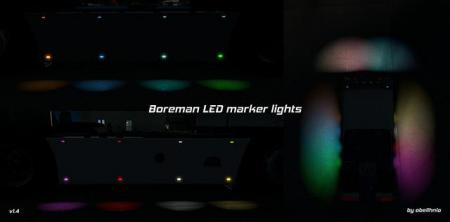 Description:
Changelog:
[v1.4:] Textures for non-standard colours got completely re-done, textures size significantly reduced, all flares replaced, all flare definition colour data tweaked, "led + strobe" variant now casts light when strobe is off.

What's up fellow truckers?
I'm here to present you some nice bling for your trucks, the Boreman LED markers. Made from scratch in Blender Tools, with high quality lamp texture and light mask.
Mod supports a wide range of modded trucks. Full support for my Kelsa Light-bars for DAF.

Special thanks to Csabee and abasstreppas for a comprehensive lists of "suitable_for" variables.
Authors:
obelihnio
Share this mod with Friends:
DOWNLOAD
(1mb, modsbase.com)