Newest mods
STOBART GROUP TRUCK SKINS V1.0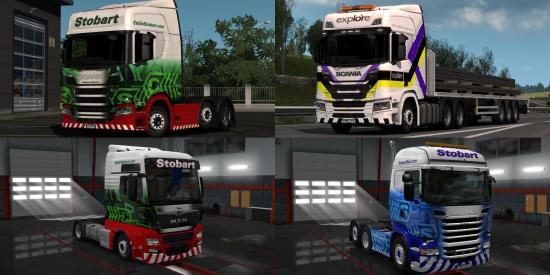 Description:

Stobart Group Truck Skins

Trucks:
– Mercedes-Benz New Actros
– Volvo FH 2012/Reworked (Recommended use Eugene (Reworked) version) – see on forum.scssoft.com
– Scania R, T & Streamline RJL
– Volvo FH Classic
– MAN TGX Euro 6 (MADster) – For sunshield text (http://sharemods.com/dy9zzshj9ndk/man_tgx_euro6_stobart_sunshield_text.scs.html)
– Scania R Next Generation (for Normal cab, I suggest install Sogard3 Scania low-deck addon, 'cause there you can choose raised air deflectors for more realistic.)

Credit(s):
– Moh1336 (ijsmods) for his Stobart template
– RJL for his Scania R&S mod
– MADster
– Eugene and SCS Software

Work on 1.27 or newer.

If not working on yours, check any mods that conflicted with this paint jobs.
and if paint jobs for Scania not appear, check if you have download Scania R RJL.
Authors:
AytidaOytesarp (Hisnameisalsoeffort)
Share this mod with Friends:
DOWNLOAD
(33.2 Mb, Sharemods.com)