Newest mods
VOLVO F88 V1.4.1 BY XBS 1.33.X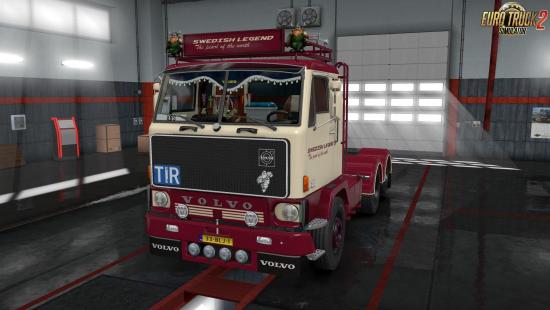 Description:

Features truck:
- Standalone trucks,
- Sold in Volvo Dealer shop.
- No details from other games or mods.
- Model and additional details created in the 3d editor for this truck.
- for Ets2 1.32.x-1.33.x game versions

New Version 1.4.1:
- Fixed bugs who where reported
- Added Interior options
- Added original old wheels

1.4:
- Compatibility with version of the game 1.33.
- Added: Top Bed in sleeper.
- Added: Cab Flares.
- Added: Painted Door step.
- Added: Two Front grill Australin style (paint and black metall).
- Added: odometer.
- Fixed: chassis tremor.
- Fixed: wipers animation.
- Fixed: raindrops on the windows of the sleeper, and the rear window.
Authors:
XBS
Share this mod with Friends:
DOWNLOAD
(37.6 Mb, Sharemods.com)