Newest mods
RENAULT MAJOR ETS2 1.34.X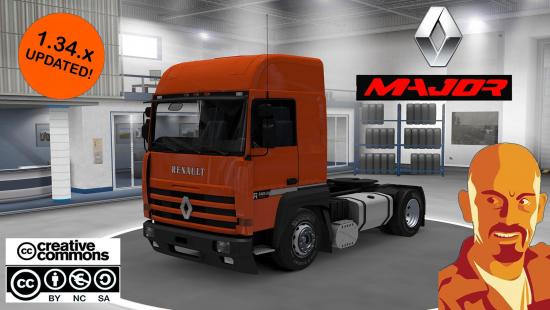 Description:
RENAULT MAJOR.

Updated to 1.34.x.
Few corrections.
SiSL Megapack addon INCLUDED.
You need SiS'L megapack to have all the cabin accessories available.

Please inform about bugs/errors. Thank you.

Enjoy it. :-)

YOUTUBE: https://www.youtube.com/c/cyrusthevirus_mods SUBSCRIBE!
INSTAGRAM: https://www.instagram.com/cyrusthevirus_mods
SUPPORT ME WITH A SMALL DONATION: www.paypal.me/cyrusth3virus

MOD PROTECTED BY CREATIVE COMMONS LICENSE V4.0.
https://creativecommons.org/licenses/by-nc-nd/4.0/
YOU CAN SHARE FREELY BUT ONLY USING THE ORIGINAL LINKS.
UPLOAD THE FILES TO OTHER SERVERS IS NOT PERMITTED.
Authors:
CyrusTheVirus, Danil Shamshura, Fenix, ETS2Reload.
Share this mod with Friends:
DOWNLOAD
(63.4 Mb, Sharemods.com)