Newest mods
Gifts of the Caucasus version 1.5.3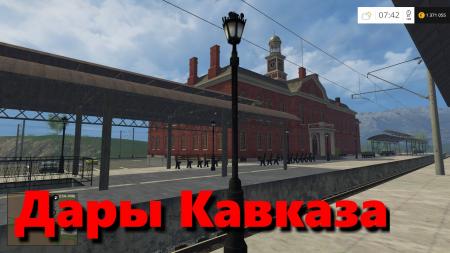 Description:
The map of the Gift of the Caucasus has long been known to everyone ... In this version - 1.5.3 - a furniture factory was added, some changes in the storage of bales and small things ... Traffic is registered to the hardware store (Uncle Vova ordered).

We present you a map of the Caucasus topics. Picturesque terrain, varied terrain, land and sea, mountains and plains, a complex and simple form of the field. Unique scripts (igor29381): mud, filling hose, trains and ships with functional, animated animals, rotary mining excavator, unique menu of this map, crop picking, restriction on seed selection, lost technique, evacuator, suspension physics on different surfaces, weight cargo, car wash, paid car.

On the gift of the Caucasus there are a lot of factories and factories that produce flour, which produce 3 types of flour, bread, biscuits, beer, canned goods, condensed milk, sugar, ras. oil, concrete. Factories and fields are sold in a real estate office, it is possible to improve plants and limited warehouses, for cutting down forests without a penalty, a license is needed. You have a choice of what to do, you can sell in a raw kind of harvest, and you can produce products and sell at a more favorable price. Fertilizing fields by plane.

A new economic system, many opportunities, rating records affect the gameplay, you can develop your economy in many ways. All logos and company names on the map are not advertising and propaganda, but are used for the interest and realism of the game. Have a good game.
Authors:
--
Share this mod with Friends:
DOWNLOAD
(487 mb, Uploadfiles.eu)