Newest mods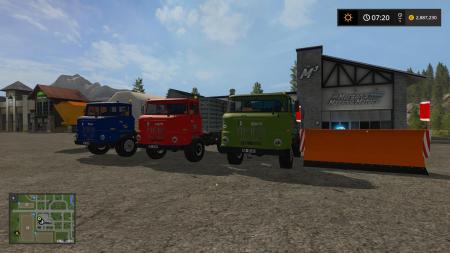 Description:
Revised pack winter service and much more see for yourself what has become of it.

IFA L60 versions are, L60 tipper, L60 SHA, L60 flatbed
- All 3 L60 are fully animated (doors, windows, hoods, cab, planks, spare wheel, cardan shafts, pendulum axles, speedometer etc)
- have installed static lights
- Color and tire choice and various choices in the purchase menu
- (L60 tipper can be converted to tractor unit, L60 SHA to WB, NSW, underrun protection with NSW and without, loading capacity can be increased from 6t to 8t, tarpaulin color selectable etc.)
- MP fit, were checked by us and the tester

NOW enough written, attached some pictures and the link
THE MOD MUST BE USING THE ORIG. DL-LINKS EVERYWHERE TO THE DL WERDED!
MfG your LS special construction team

PS: about a feedback on your part, if everything funzt we would be happy, the Winterdienstaufbau does not take sand, because the scattering is not wanted by the Seasonsmod.
Authors:
LPGfan270182
Share this mod with Friends:
DOWNLOAD
(65 Mb, sharemods.com)