Newest mods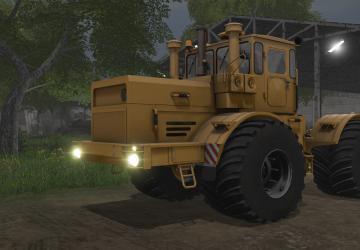 Description:
- Cost: 68,000 €;
- Service cost per day: 270 €;
- Speed: 33-40 km / h;
- Fuel tank volume: 640 l .;
- Choice of the main color;
- Choice of design color;
- Choice of rim color;
- Engine selection;
- Choice of wheels;
- Choice of additional lighting / mud flaps / lights Road train;
- Choice of safety cage;
- Adjustable hitch;
- Dynamic hoses;
- Animated devices;
- Working lighting equipment;
- Working mirrors;
- Leaves traces;
- Gets dirty and washed.

The main differences between the "Edit" version and the author's version:
- When choosing engines (YaMZ-238 and YaMZ-240BM), a corresponding inscription of the tractor modification appears on the hood of the tractor (K-700A and K-701), when choosing other engines, the inscription is absent because these engines do not correspond to these modifications, although they can be installed on this tractor;
- Reduced the number of selectable engines, in the author's original there were 7 engines now only 4, but now each engine has its own original sound;
- Fully finalized all sound files, used as copyright and others;
- Improved some textures and removed the foreign state. number;
- Revised prices for certain options for modifying the tractor in accordance with the game's pricing policy.
Authors:
SFM-Modding, bm-modding, Erlan10, Design: Suleimann.
Share this mod with Friends:
DOWNLOAD
(29 mb, Modsbase.com)