Newest mods
ZAGRODY SEASONS READY V1.1.1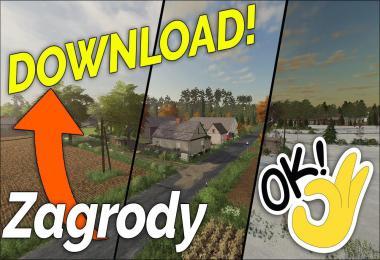 Description:
Version 1.1.1 seasons-ready
Two playable farms
Seasons Ready
Sawmill
Purchase of grains, sawdust, straw, milk, wool
Store with a workshop
Petrol station
32KW biogas plant
New textures of soil, cereals and grass
Liquid fertilizer purchase point
Vehicle traffic
Pedestrian traffic
Lighting from Nismo has been added
Fixed Seasons + additional crops working
Additional crops: alfalfa, rye and triticale
The possibility of feeding the animals with additional crops
Animal dealer
Fixed being able to sell wells
other
Please respect my work.
Greetings!
MTN

The card contains:
- Two playable farms (separate for multi)
- Seasons ready
- Sawmill
- Buying grain
- Buying sawdust
- Buying straw
- buying milk
- Shop with a workshop
- farmland approx. 40
- Fields of different shapes and surfaces
- gas stations
- 32KW biogas plants
- New ground textures
- New rapeseed structure
- New grass structure
- Buying point for liquid fertilizers
- Vehicle traffic
- pedestrian traffic
- Buy wool
- And other.

Play, have fun.
If you have any problems, please report them in the comment below the film.
Authors:
MaTsoN (MTN)
Share this mod with Friends:
DOWNLOAD
(486 mb, Sharemods.com)