Newest mods
BMW M3 E46 CSL [Add-On | Tuning] Beta (0.5)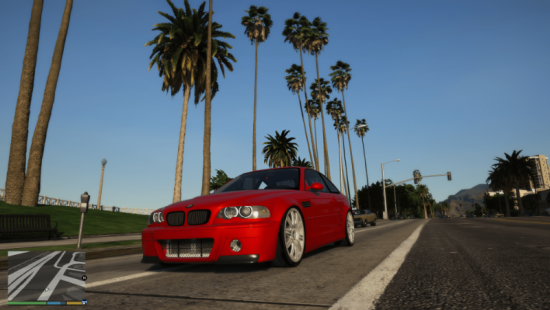 Description:
Bonjour, je vous propose aujourd'hui la première version beta de ma BMW M3 E46 CSL.

Version BETA (0.5) :
- Véhicule fonctionne parfaitement bien
- Vitre cassable
- 4 échappements Tuning
- Tuning intérieur avec arceaux de sécurité
- Lumières fonctionne et bien ajusté
- Volant et siège bien ajusté
- Vitre teinté possible

BUG :
- Problème de collision
- Pas de compteur
- Intérieur de mauvaise qualité

Dans les futurs mises a jour :
- Compteur
- Plus de parties Tuning
- Amélioration des collisions
- Textures intérieur HD
- Jantes CSL et pneus HD

Pour l'installation :
- copié le dossier "m3e46" dans update/x64/dlcpacks/
- Ajouté la ligne "dlcpacks:\m3e46\" dans le fichier dlclist.xml dans update/update.rpf/common/data
- Spawn la voiture avec le nom "m3e46"
- Je conseil l'utilisation d'un gameconfig adapté pour éviter les crashs en jeu

S'il vous plait faite un don pour me soutenir et obtenir plus de mods et mis a jour.

** Description in English: **
Hello, today I offer you the first beta version of my BMW M3 E46 CSL.

BETA version (0.5):
- Vehicle works perfectly well
- Breakable glass
- 4 Tuning exhausts
- Tuning interior with rollbars
- Lights works and fits well
- Steering wheel and seat adjusted properly
- Tinted glass possible

BUG:
- Collision problem
- No counter
- bad quality interior

In future updates:
- Counter
- More Tuning Parts
- Improved collisions
- HD interior textures
- CSL wheels and HD tires

For installation:
- copied the folder "m3e46" in update / x64 / dlcpacks /
- Added the line " dlcpacks: \ m3e46 \ item>" in the file dlclist.xml in update / update.rpf / common / data
- Spawn the car with the name "m3e46"
- I advise the use of a suitable gameconfig to avoid crashes in game

Please donate to support me and get more mods and updates.
Authors:
RockStarGame666
Share this mod with Friends:
DOWNLOAD
(14.8 Mb, Sharemods.com)