Newest mods
BENOIS TRANSPORTS 6X4 MULTIS BENNES V 1.0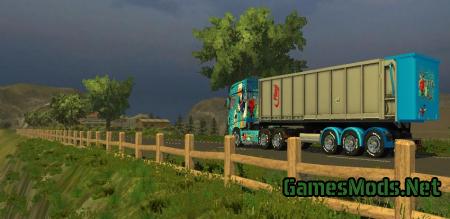 Description:
Authors:
Share this mod with Friends:
DOWNLOAD
(50 MB, UploadFiles.eu)
Here is a very nice all the colors of donald duck

The pack contains:
A tractor SCANIA 6X4
A semi-trailer
A dump trailer 2 axles
3 axle tipper trailer
4 axle dump trailer
The pack is in.RAR It must be unzip in your mods folder.

Announcement: We are a group of re-skinner, but we also sum of many designers with very good mods already crГ©er.Nous looking for writers to give life into the game with our exclusive designs. www.tfs13.com
........................................................................
Voici un trГ©s belle ensemble aux couleurs de donald duck

Le pack contient:
Un tracteur routier SCANIA 6X4
Une benne semi-remorque
Une benne remorque 2 essieux
Une benne remorque 3 essieux
Une benne remorque 4 essieux

Le pack est au format.RAR il doit ГЄtre dГ©compresser dans votre dossier mods.