Newest mods
MAZ-5337 version 1.1 FIN build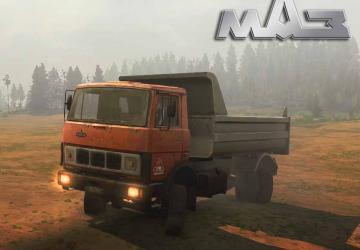 Description:
The Brotherhood of Models community presents its assembly MAZ-5337 to you. It was decided to give a second life to this workaholic and to fully reveal his potential. In the game, the Maz-5337 fully justified the forces and time invested in it.

Description:

- 10 of their add-ons;
- 4 of their trailers.

The mod transports:

- 4 garage points;
- 2000 l;
- 4 points of cargo;
- 800 repair points.

Authors of 3D models: arshinskiy03, pokemone, Max Dmitriev (MaximDm67)
Texture authors: arshinskiy03, pokemone, Max Dmitriev (MaximDm67), Barda4ok22

Assembly and selection of add-ons: Barda4ok22

I express my gratitude for the help and assistance in the creation and configuration of this truck model: to Andrei Arshinsky


Everyone who liked this assembly can join our https://vk.com/public192147265">group in VK.
There you will see the process of creating certain modifications, and you can also purchase or order any model or assembly at an inexpensive price.

Have a nice ride!



Version 1.1 FIN for Spintires: MudRunner (v10.06.19):

- Fixed jerking wings;
- Fixed loading area on the platform;
- Fixed dump truck (loading area and reserve problem);
- Added fuel animation to the tank.

Thanks for the edits and help EGOR111 and arshinskiy03.
I think to summarize this. It seems that everything I could correct where there were comments.
Authors:
Barda4ok22
Share this mod with Friends:
DOWNLOAD
(93 mb, Modsbase.com)